AVAILABLE FOR PLUMBING REPAIRS 24/7
Your septic tank and drain field work together to perform a very crucial job for your home or commercial building. Simply put, this system carries waste from your indoor plumbing and safely disposes of it. You need to address any and all service needs for this system, in a prompt and professional manner.
This is why so many locals in need of septic tank or drain field services call on the industry experts here at Gering Valley Plumbing & Heating We take great pride in the work that we do and in the manner in which we are able to provide exceptional quality results for our clients. Make it a point to contact our plumbers when you find yourself in need of general plumbing services, or something specific like this.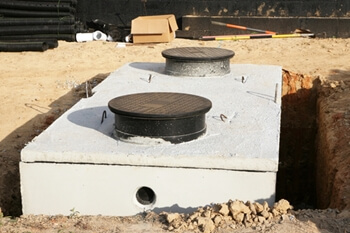 Service Excellence for Quality Septic Tanks and Drain Field Service Results
Your septic system and drain field, also referred to as leach fields or leach drains, can experience problems. Some common symptoms of this include:
It is hard to mistake the distinct odor associated with septic tank issues. If you begin to notice that you are smelling that all too familiar and unpleasant scent, get in touch with a professional, right away.
Wet spots are another red flag. If you notice the appearance of these spots above the septic tank or septic drain field, don't wait to call for help.
You may also notice that your toilets seem to be operating in a more sluggish fashion. This, or any septic pipe noises, mean that you should have your system inspected by a professional plumber.
Prompt & Professional Septic Tanks and Drain Fields Service
The experts at Gering Valley Plumbing & Heating Inc. are dedicated to providing service excellence for every client we work with. We can address your septic tank and drain field service needs, and work with both residential and commercial clients. Give us the opportunity to ensure that you get the finest in workmanship for the best overall results.
If you need a plumber who can repair and service septic tanks and drain fields in the Gering area, please call Gering Valley Plumbing & Heating at (308) 216-8927 or complete our online request form.