Providing Heat Pump Repair and Replacement Services in Gering Since 1987
What is a Heat Pump?
A heat pump is an HVAC system that works similarly to a refrigerator or an air conditioner. These machines extract heat from a source—such as the air outside or geothermal energy beneath the ground—before circulating it where it is needed. Because most of the heat is transferred rather than generated, these systems are able to climatize your home much more efficiently than a typical AC unit ,boiler, or furnace. Known for their ability to alternate between heating to cooling, heat pumps offer two distinct modes of operation.
Cooling: When the weather in Gering heats up, your heat pump works almost identically to a standard air conditioner. Using a refrigerant, usually freon, it pulls removes the heat from inside your home. This excess warmth is then transferred to your outdoor unit for discharge.
Heating: When outdoor temperatures dip, the heat pump reverses it's typical flow. On cold days, the outdoor unit pulls warmed air in and pulls the heat from it. This heat, through the science of refrigerant heat transfer, is then added to your system's air stream and circulated—raising your interior temperature between 20 to 30 degrees.
Gering and the surrounding areas are great spots for heat pump installation. In many cases, homeowners actually find value in making the switch. These systems work efficiently even as temperatures approach freezing, though there can be issues when the thermostat dips into the single digits. But as the technology continues to improve, this issue will likely fade.
Our Heat Pump Services
Heat Pump Repair
Heat pumps may be one of the most efficient and popular types of HVAC systems, but they still break down. Their year-round use often leads to small component failures. Fortunately, if your system goes out, our heat pump repair experts are here for you. Call (308) 216-8927 to schedule heat pump service in the Gering area.
Heat Pump Installation
If you're thinking of replacing your existing heat pump or want to convert to one, Gering Valley Plumbing & Heating is ready to help. They've been installing heat pumps in the Gering area for many years and know how to get it done right. We also provide free heat pump installation quotes to interested customers. To learn more, reach out to us by phone or form.
Heat Pump Maintenance
Taking good care of your heat pump is the best way to keep it running at its best. And doing so means scheduling regular heat pump tune-ups with our team of HVAC professionals. Not only will you be notified of any potential issues, but you'll also end the appointment with a cleaner, more efficient HVAC system. To learn more about how heat pump maintenance in Gering benefits you, reach out to one of our friendly customer support reps.
Why Homeowners in Gering Should Consider Installing a Heat Pump
Now that you understand how these systems work, you might not be sure why you should install one. For those living in areas where freezing temperatures are uncommon, the benefits of swapping from central HVAC to a heat pump are numerous and include:
Increased Convenience: Heat pumps are simpler than AC units and require less maintenance to operate. Switching between heating and cooling modes is also as simple as hitting a switch.
Improved Air Quality: Because they don't rely on combustion, heat pumps are cleaner to run and operate. They also generate less dust than standard systems.
Increased Efficiency: Since they use less energy, a heat pump based HVAC system can help lower your AC and heating bills. Typical HVAC savings hover somewhere around 40 percent.
Call Gering Valley Plumbing & Heating for Heat Pump Repair in Greater Gering
LOCAL HEAT PUMP REPAIR EXPERTS
At some point, if you have a heat pump you are going to need heat pump repairs. Savvy local home and business owners know that the heating contractors to call on are at Gering Valley Plumbing & Heating, and has been since 1987. We are a family owned and operated business, dedicated to helping provide our customers with the best possible service and results.
Ultimately, the goal is to be able to make sure that our customers are 100% satisfied. We make this possible by going above and beyond to deliver topnotch results for the repair work we do. Make it a point to give us call, and let us diagnose and fix your system.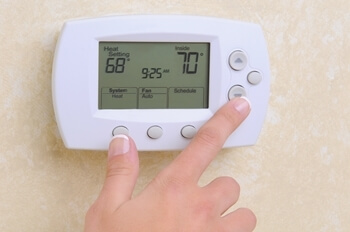 Service Excellence for Quality Heat Pump Repair Results
As with any type of heating system, there are a number of things that can go wrong. Some common repairs include:
It is not uncommon to end up with a slow leak of refrigerant. If this happens, the system is unable to melt frost which, in turn, makes it impossible for the system to reach the set temperature.
If you have an issue with the outdoor fan, your system is not going to work properly. It is always a good idea to check the outdoor unit to make sure there is no debris, like branches, causing the system not to function correctly.
This includes the possibility of water leaking onto the unit. A constant drip, such as from overhead gutters, can end up resulting in the formation of ice. Your heating system cannot function properly if this happens.
Prompt & Professional Heat Pump Repairs
Gering Valley Plumbing & Heating Inc. is the only name that you need to know, in order to get the quality heating services and results that you deserve. We work with both residential and commercial clients in an effort to get any and all local service needs addressed. Make the call today in order to get the heat pump repair service that you need, taken care of.
If you need heat pump repairs in the Gering area, please call Gering Valley Plumbing & Heating at (308) 216-8927 or complete our online request form.