Providing Heat Pump Repair and Replacement Services in Gering Since 1987
What is a Heat Pump?
Our Heat Pump Services
Why Homeowners in Gering Should Consider Installing a Heat Pump
Call Gering Valley Plumbing & Heating for Heat Pump Repair in Greater Gering
LOCAL HEAT PUMP REPAIR EXPERTS
At some point, if you have a heat pump you are going to need heat pump repairs. Savvy local home and business owners know that the heating contractors to call on are at Gering Valley Plumbing & Heating, and has been since 1987. We are a family owned and operated business, dedicated to helping provide our customers with the best possible service and results.
Ultimately, the goal is to be able to make sure that our customers are 100% satisfied. We make this possible by going above and beyond to deliver topnotch results for the repair work we do. Make it a point to give us call, and let us diagnose and fix your system.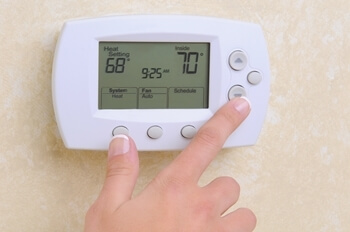 Service Excellence for Quality Heat Pump Repair Results
As with any type of heating system, there are a number of things that can go wrong. Some common repairs include:
It is not uncommon to end up with a slow leak of refrigerant. If this happens, the system is unable to melt frost which, in turn, makes it impossible for the system to reach the set temperature.
If you have an issue with the outdoor fan, your system is not going to work properly. It is always a good idea to check the outdoor unit to make sure there is no debris, like branches, causing the system not to function correctly.
This includes the possibility of water leaking onto the unit. A constant drip, such as from overhead gutters, can end up resulting in the formation of ice. Your heating system cannot function properly if this happens.
Prompt & Professional Heat Pump Repairs
Gering Valley Plumbing & Heating Inc. is the only name that you need to know, in order to get the quality heating services and results that you deserve. We work with both residential and commercial clients in an effort to get any and all local service needs addressed. Make the call today in order to get the heat pump repair service that you need, taken care of.
If you need heat pump repairs in the Gering area, please call Gering Valley Plumbing & Heating at (308) 216-8927 or complete our online request form.