HEATING TUNE-UPS FROM MAINTENANCE PROS
As important as heating tune-ups are, this is one of those tasks that too many home and business owners end up neglecting to schedule. Failing to set up regular tune-up service can result in a myriad of problems, all of which were avoidable. At Gering Valley Plumbing & Heating we cannot stress enough the importance of addressing heating maintenance services, in a timely manner.
Being a wise investor means making it a point to take care of that investment, as well. Not getting proactive about preventative heating system maintenance is a surefire way to be counterproductive. Let us help you safeguard your heating system against any and all unnecessary problems by scheduling your service needs.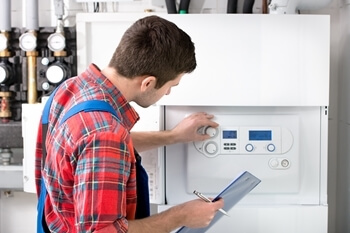 Service Excellence for Quality Heating Maintenance Results
If you are not already aware of the benefits you can expect from scheduling routine heating tune-up work in the Gering area, here is what you need to know:
Ultimately, your goal should be peak performance and maximum longevity. However, the only way to make this possible is by investing into ongoing maintenance.
As a home or business owner, you also want to be able to keep operational costs low. A tune-up helps make that possible at all times.
If your system is new, you should be interested in making certain that you keep the warranty valid. Neglect to set up preventative maintenance and you will end up voiding your warranty.
Without proper heating maintenance, it means that you are waiting for your system to breakdown, in order to discover if something is wrong. This is a more expensive alternative and puts your home or business at risk of not being able to adhere to the normal routine.
Prompt & Professional Heating Tune-Ups
Gering Valley Plumbing & Heating Inc. is the only heating contractor that you need to know, in order to get quality heating services. We want to have the opportunity to partner with you and help keep your system up and running. A scheduled heating tune-up appointment is one of the most effective ways to do so.
If you are interested in scheduling a heating tune-up in the Gering area, please call Gering Valley Plumbing & Heating at (308) 216-8927 or complete our online request form.