LOCAL HEAT PUMP REPAIR EXPERTS
Smart locals know that the name to entrust for heating installation work is Gering Valley Plumbing & Heating We take this line of work seriously and work to make sure that reflects in every job we take on. The install is especially important because it will set a precedent for how well your system will work, from here on out.
In fact, no matter how high quality the heating system is that you invest into, it will always only work as well as the installation behind it. This is why it is of the utmost importance to partner with a reputable and established heating contractor, to address your need for this type of skilled labor. With well over four decades of hands-on experience backing up this family owned and operated team, you can rest assured you are getting the highest quality workmanship.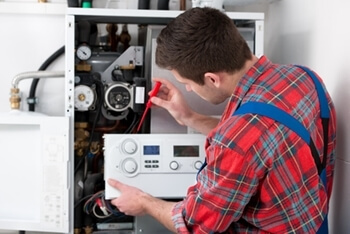 Service Excellence for Quality Heating Installation Results
It is possible that you have already been the victim of shoddy installation work before, and didn't realize that was the culprit. Some signs of inferior install labor include:
Getting a new system means not having to worry about replacement, for years to come. However, poor initial installation work will leave you stuck replacing your system again, long before it should be time.
A newer heating system should also be able to deliver when it comes to better energy efficiency. However, if installed incorrectly, you will end up paying the same for energy bills each month, if not more.
Installing a new heating unit is also about eliminating the need for repairs, at least for a few years. The bad news is that if you settle for shoddy install work, you will find yourself in need of repairs, early on.
Prompt & Professional Heating Installation
Let the Gering Valley Plumbing & Heating Inc. team address your need for heating installation services. We believe in going above and beyond, when it comes to taking care of our clients. Let us show you, in person, how we have earned the impeccable reputation we have for heating services in the Gering area.
If you are looking for a reliable professional for heating installation services in the Gering area, please call Gering Valley Plumbing & Heating at (308) 216-8927 or complete our online request form.