WATER & SEWER REPIPES - TAKING CARE OF ALL YOUR PIPE REPAIR & REPLACEMENT NEEDS
Even though you probably rarely give it any thought, your water and sewer pipes carry out an important function. Trouble is, the average home or business owner usually ignores this vital system, until something goes wrong. You don't have to be a professional plumber to realize that this system is important.
The experts at Gering Valley Plumbing & Heating know all too well how essential this delicate system is, and how serious it can be when you end up having problems with it. So, when you know or suspect that you do have an issue and need water line or sewer repiping, you can count on us to get the best professional results. We take this line of work seriously and look forward to partnering with you to address your pipe repair needs.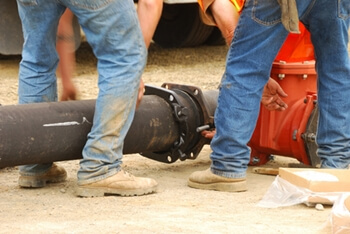 Service Excellence for Quality Water and Sewer Repipes
Older homes mean older plumbing systems. Very often, in fact, it means using materials we no longer use, like cast iron. Over time this metal corrodes and breaks down, leading to serious plumbing problems. Also, rust deposits begin to buildup which leads to clogs and, eventually, leaks.
Our pros can inspect your lines and get an idea of what the best solution would be. The good news is that water and sewer repiping is a lot more common than you think and can be a cost-effective solution to an otherwise expensive problem. We always try to offer our customers the most affordable and sensible option and sometimes that leads to professional water and sewer repiping.
Prompt & Professional Water Line and Sewer Repiping Services
Since 1987, Gering Valley Plumbing & Heating Inc. has been addressing the plumbing service needs for both residential and commercial clients. We take great pride in the work that we do and that shows in the results that we are able to get for each customer. If you know or even suspect that you are in need of water and sewer repiping, give our experts a call immediately.
If you need water line repairs or sewer repiping in the Gering area, please call Gering Valley Plumbing & Heating at (308) 216-8927 or complete our online request form.