FURNACE REPLACEMENT EXPERTS YOU CAN TRUST
Furnace replacement is more expensive than stadnard heating repairs, but sometimes it becomes the only possible option. At Gering Valley Plumbing & Heating we always opt for furnace repairs over system replacements, when this would suffice, unless otherwise requested by the client. However, we know that there are some people who are leery of so-called professionals claiming that they need a furnace replacement.
Too many heating contractors have fraudulently convinced unsuspecting home or business owners that they need replacement, in order to make more money. Sometimes it is also simply because the repair is beyond the skill level of the contractor, but they do not want to admit this. Make the wise choice to partner with a reputable industry expert and you will never have to worry about falling victim to this type of unethical behavior.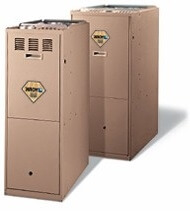 Service Excellence for Quality Furnace Replacement Results
Be a savvy home or business owner, as well as an informed consumer, and keep these points in mind, before decide between repairs versus replacement:
The average lifespan of a furnace is about 15 years – how old is yours? If you are nearing the end of the life cycle anyway, it might make more sense to opt for replacement over repairs.
If the cost of repairs is 50% or greater than the current value of your furnace, replacement makes more sense. There is little point in investing more money into repairs into a system of lesser value.
If your furnace has been a source of constant repair needs, or is likely to require ongoing repairs in the future, it would probably be more sensible to replace your system.
Prompt & Professional Furnace Replacement
One thing is for certain, Gering Valley Plumbing & Heating Inc. will not steer you wrong when it comes to the services that you need for your heating system. As a family owned and operated heating services company, you can feel good knowing that we deliver honest feedback and quality workmanship. Don't take chances or settle for less than the best, when it comes to your furnace replacement.
If you need furnace replacement in the Gering area, please call Gering Valley Plumbing & Heating at (308) 436-4622 or complete our online request form.