CALL Gering Valley Plumbing & Heating FOR AIR CONDITIONING REPAIRS TODAY
Wise home and business owners know the importance of selecting an air conditioning repair professional, prior to the moment that they need repairs. Even smarter locals already know that the company to call on is With well over 40 years of industry related industry experience backing up our air conditioning company, you can feel confident that we will be able to handle whatever AC repair needs you may have.
While we certainly do not want you to run into the need for air conditioning repairs, we take comfort knowing you have the opportunity to work with us to get the best possible service. This means more than short term, quick fixes. We provide long term solutions that maximize longevity and enhance overall performance of your cooling system.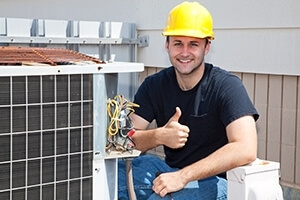 Service Excellence for Quality Air Conditioning Repair Results
Why is it so essential to address air conditioner repair needs in a prompt and professional manner?
For one thing, the sooner you take care of repairs, the less chance they have of getting worse. Minor repairs can rapidly develop into major problems, before you even realize what has happened.
This also helps your system run more efficiently. Even if your air conditioning is technically working, it doesn't mean it is working well. This added strain on the system means it will cost a great deal more on your utility bills, in order for it to get the same job done.
Obviously, this extra taxation will also break the system down faster. Not only will you be shortening the expected lifespan, you could end up causing the need for replacement to happen now, instead of later.
Prompt & Professional Local Air Conditioning Repairs
Gering Valley Plumbing & Heating Inc. is the only name that you need to know, in order to get exceptional workmanship and superior customer care. We will take the time required to correctly identify the air conditioning repair need and then make it right. We keep our work truck fully stocked so we can take care of your air conditioning service needs, usually on the very same trip.
If you need air conditioning repairs in Gering or nearby, please call Gering Valley Plumbing & Heating at (308) 436-4622 or complete our online request form. If this is an AC repair emergency, please call us!