DEPENDABLE HEATING, AIR CONDITIONING, & PLUMBING COMPANY IN MORRILL, NE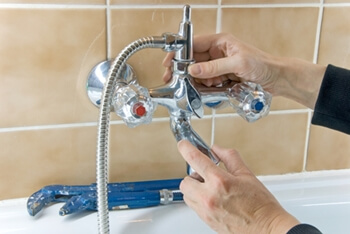 When it comes to quality plumbing services that you can trust, the only name that you need to know is Gering Valley Plumbing & Heating. We are a plumbing company that works with both residential and commercial clients to deliver on all of their plumbing service needs, no matter how simple or complex the issue at hand might be. Has your home or business's plumbing system been acting up lately? If so, pick up the phone and give our team of professional plumbers a call today and let us show you why we are the premier name in quality plumbing services throughout the local area.
We are a family owned and operated plumbing company that has been providing our local customers with the high quality plumbing services they need since 1987, and we are just getting started. We take a great amount of pride in the quality of work that we are able to consistently deliver to each and every one of our valued Morrill customers, and we believe that shows through in our commitment to delivering nothing but the absolute best in quality results. If you have any questions about our full line of high quality plumbing services, or if you would like to schedule an appointment for consultation with one of our specialists, give us a call today. Our team of experts are standing by and would be more than happy to assist you in any way we can.
Professional Heating Experts In Morrill
When it really comes down to it, there are a number of issues that could spring up with your home's heating system with very little, or no warning. The tragedy is that some of these issues are completely avoidable with the right preventable care. Some of these issues include:
Failing to change your air filters regularly. When you air filters become clogged with dirt and dust, it restricts airflow into your system, and will eventually block the airflow entirely.
Failing to have regular maintenance performed. Scheduling a regular tune up for your system at least once per year will go a long way to helping you take care of small issues in your system before they have a chance to turn into something bigger.
Experienced Morrill Air Conditioning Pros
If your home seems to be getting hotter than you would like it to be, and your home's AC just can't seem to keep up with your demands, the air conditioning professionals here at Gering Valley Plumbing & Heating are available 24 hours a day, 7 days a week to help you get the issue corrected and restore your home to comfort. For the finest in quality air conditioning repairs and service, you can always find it right here.
If you are looking for a reliable professional to take care of your plumbing, heating or air conditioning in Morrill, NE then please call (308) 216-8927 or complete our online request form.