TOP RATED WHOLE-HOUSE HUMIDIFIERS
Gering Valley Plumbing & Heating is the local leading service provider for a number of different types of services, including indoor air quality work. One of our areas of specialty happens to be whole-house humidifiers. While many people think of this as a useful system to have during the winter, the truth of the matter is that this is beneficial, all year long.
We take great pride in the work that we do and in our ability to help our customers get the service that they need, especially ones that are essential for better health. Our air conditioning company can help you to, first, better comprehend the benefits that you can expect. From there, we will expertly install any and all of the indoor air systems that you feel would best benefit your household.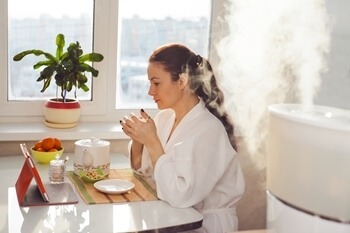 Service Excellence for Quality Humidifier Service Results
If you are not yet familiar, here are some of the benefits that you can expect to enjoy, once your humidifier has been installed:
Viruses travel with greater ease through dry air. By adding moisture to the air, you greatly reduce the chances of illness spreading through your household and making everyone sick.
This is also a vital way to keep the mucus membranes lubricated. That makes things more comfortable in general but is especially important during any times of illness.
The good news is that this also is key for helping to alleviate snoring. So if you or someone in your home snores, this is a great step to take to try to stop it.
The increased moisture is even great for your skin and hair. You will notice a fresher and more replenished look and feel.
Prompt & Professional Humidifier Service
Let Gering Valley Plumbing & Heating Inc. address your need for exceptional quality service, even when it comes to your humidifier. We will help you to determine if this would be the right fit for your home and then expertly install it for you. Take back control of the quality of the air that you and your family breathes.
If you are interested in our selection of whole-house humidifiers, please call Gering Valley Plumbing & Heating at (308) 436-4622 or complete our online request form.